Free Power Washing
with exterior painting and deck staining
expires 08/31/2019
20% Off Wallpaper Removal
wall prep included
expires 08/31/2019
10% OFF
Kitchen Cabinet painting
expires 08/31/2019
Welcome to Affordable Painting & Papering
Trusted Painting Contractor in Glenside, Pennsylvania
"Big or Small, We Do it Right or Not at All"
Located in Glenside, Pennsylvania, Affordable Painting & Papering has been proudly providing expert quality painting since 1975 to homeowners in Montgomery and Bucks Counties. Whether you're searching for a credible painter in Glenside, Philadelphia, the Main Line, or anywhere in between, you can count on Affordable Painting & Papering to offer our expertise to you! We specialize in INTERIOR PAINTING and HOUSE PAINTING, as well as painting Glenside trim and window sills to perfection.
---
Call
---
When You Call Affordable Painting & Papering ...
You Will Always Speak Directly With The Owner!

Gary Mallen, Owner and Chief Operator of Affordable Painting & Papering, started in the painting business when he was just 12 years old. His father sold paint spraying equipment which is where he began his training. Spraying is better on aluminum, vinyl siding, stucco or wood cedar shakes, the finish is more evenly applied and gets into crevasses where brushes and rollers can't. However, we are not just experts in paint spraying, but have over 44 years rolling and brushing clean coats of flawless paint. All areas are taped and always protected. Neatness and experience are a must. After learning a great deal from his father, including the work ethic and integrity that he continues to value today, he went on to become certified in lead paint removal. Affordable Painting & Papering uses the highest standards in the industry to handle all of your Glenside, Pennsylvania painting needs!
---
Call
---
Glenside's Painting Contractor of Choice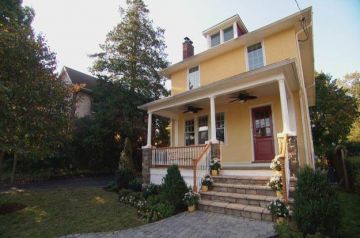 Owner, Gary, has been painting for 35 years, and always uses high quality paints. In addition, you won't find a more professional painter in Glenside, Pennsylvania. We pride our Glenside painting business on 100% customer satisfaction. No job is complete until we are sure all customers are happy with the final results.
Have Water Damage?
Affordable Painting & Papering is now offering water Damage services in Glenside Pennsylvania and all surrounding areas. We will restore all water damage from start to finish. From removing water and complete dry-outs, replacing damaged wood or effected areas, to cleaning out drains, gutters and downspouts, Affordable Painting & Papering does it all. If you're experiencing water damage in Montgomery or Bucks County areas, call (215) 550-1132.
Trade License # PA073541
Check out Affordable Painting & Papering on "Fix This Yard" by Home Depot!
---
Call Today for a FREE Quote
---
All of our work is GUARANTEED. The job is not complete until you are 100% satisfied! Call anytime to discuss your Glenside painting needs.
Affordable Painting & Papering offers

Snow Plowing

in & around Glenside, Pennsylvania. Keep (215) 550-1132 on speed dial for when the snow storms hit!