Stucco Application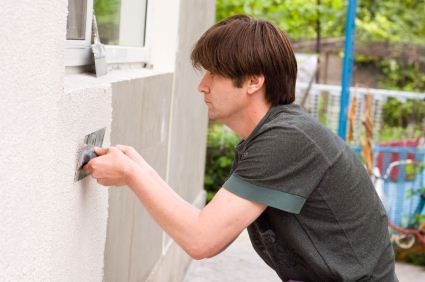 Stucco surfaces have become a sought-after exterior coating because it is engineered to offer low maintenance, yet attractive protection of your home or office building. Affordable Painting & Papering has been a trusted leader in Stucco Application since 1975.
Affordable Painting & Papering Stucco Application experts are trained in the art and science of Stucco Siding Application. Our Stucco Application provides top notch performance and drastically reduces potential for cracking. Affordable Painting & Papering technicians seamlessly integrate stucco walls with roofs, windows and doors to prevent leaking.
We follow national standards for mixing, application and curing of Stucco, resulting in beautifully durable exteriors. Our secret is in the mix! Expert stucco technicians at Affordable Painting & Papering mix the batches so that they are the same optimal consistency time after time. Available stucco surfaces include smooth surfaces, laced surfaces and dashed surfaces.
Benefits of Using Affordable Painting & Papering for Your Stucco Siding Application Job:
Our top quality workmanship will last for decades
Simple, low cost maintenance – just requires power washing
Excellent value – Affordable Painting & Papering completes the work on time and on budget
Lower your heating and cooling bills
Affordable Painting & Papering is a name you can trust for Stucco Application
Stucco Services Affordable Painting & Papering offers:
Stucco Siding
Stucco Repair
Stucco Painting
Stucco Finish Application